Read the PDF version »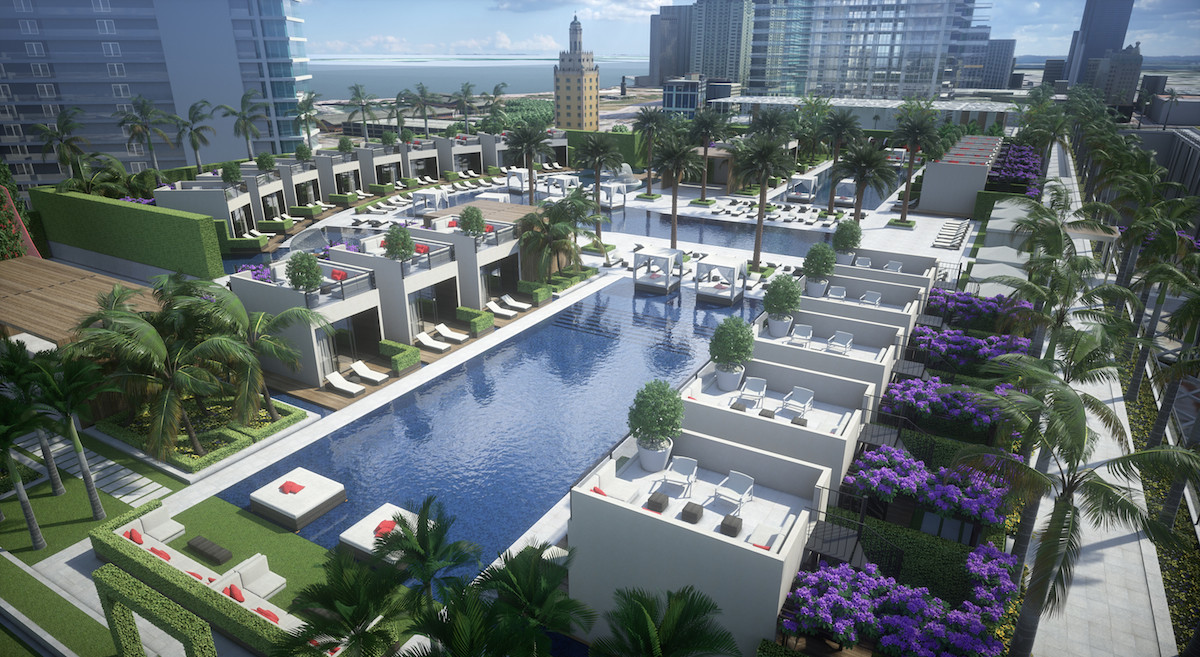 Este año, fenómenos climáticos como El Niño, que según las predicciones será uno de los más fuertes que se hayan registrado, están influenciando el clima invernal. En pocas palabras la temperatura seguirá bajando y provocando lluvias y tormentas de nieve sin un patrón definido.
No nos queda más que planear a futuro como y donde escapar del frio, así que mientras la temperatura se estabiliza y dejamos atrás el invierno, nada como soñar donde podemos relajarnos con los primeros rayos del sol de primavera.
Uno de nuestros destinos de playa favoritos es Miami, y justamente ahí es donde hemos seleccionado nuestras 3 coolest pools para disfrutar, asolearse y porque no, escapar de la rutina y olvidarnos de las bajas temperaturas.
Paramount Miami Worldcenter
En la parte superior del centro comercial, Paramount  Miami Worldcenter, esta serie de espectaculares piscinas están diseñadas para disfrutarse durante todo el día, gracias a las fiestas y eventos que ahí se realizan. El desarrollo donde los departamentos oscilan entre los US$750.000 y US$2.000.000 cuenta con una piscina redonda en la parte superior donde se pueden apreciar los más impactantes atardeceres de la ciudad.
Edificio Privé en Island Estates
Ubicado en el Intercoastal Waterway, , Privé se ha convertido en uno de los desarrollos favoritos de Florida. Se trata de un complejo de lujo levantado en Island Estates, la última isla privada virgen de la región del sur de Miami. Cuenta con varias piscinas rectangulares en el centro de la isla, entre las dos torres y en la azotea, ofreciendo una espectacular vista a la ciudad.
Elysee Miami
En el lujoso vestíbulo encontramos una piscina con una vista espectacular a la bahía, además  de tener una piscina recreativa de 23 metros de longitud. Este edificio está ubicado sobre la costa de la Bahía Biscayne y contará con 100 residencias distribuidas en 57 pisos.
---
This year, climate phenomena such as El Niño, which is predicted to be one of the strongest ever recorded, are influencing the winter weather. In short the temperature will continue to fall, causing rains and snowstorms without a definite pattern.
We have no remedy but to plan how and where to escape the cold, so while the temperature stabilizes, leaving behind the winter, nothing like dreaming where we can relax with the first rays of spring sunshine.
One of our favorite destinations is Miami, and right there is where we have selected 3 of the coolest pools to enjoy sunbathing and, why not, escape the routine and forget the low temperatures.
Paramount Miami Worldcenter
In the upper part of the Paramount Worldcenter Miami mall, this series of spectacular pools are designed to be enjoyed throughout the day, thanks to festivals and events that take place there. The development, where departments range between US $ 750,000 and US $ 2,000,000, has also one of the coolest pools at the top where you can appreciate the most stunning sunsets of the city.
Privé building in Island Estates
Located on the Intercostal Waterway, Privé has become a favorite development in Florida. It is a luxury resort built in Island Estates, the last untouched private island in the region of southern Miami. It has several rectangular pools in the center of the island, between the two towers and in the rooftop, offering a spectacular view of the city.
Elysee Miami
In the luxurious lobby we find a swimming pool with a spectacular view of the bay, in addition to a recreational pool, 23 meters long. This building is located on the shores of Biscayne Bay and will have 100 residences spread over 57 floors.